The adoption of digital solutions for improved healthcare delivery is a practical solution for Southeast Asian healthcare providers who are struggling to close gaps in the delivery of care, keep up with fast-paced industry reforms, and meet the challenges of rising patient empowerment. This article explores the healthcare ROI of using digital health services on a mass scale.
However, two factors have some organizations questioning the value of high upfront and maintenance costs for digitally transforming their services. The complexities in defining and demonstrating the value from digital health investments, and conflicting perspectives in determining the return on investment (ROI) and how to measure it, contribute to their reluctance to invest.
This reluctance, despite the massive potential for digital technologies to contribute to improved health outcomes for millions of people, shows how crucial it is for technological innovations to clearly articulate their value proposition to decision-makers based on a risk versus benefit.
MyDoc, a Singapore-based digital health platform, collaborated with PwC Global and the National University of Singapore's Centre for Health Services and Policy Research, in a 2017 study to highlight the economic benefits and ROI of teleconsultation in healthcare.
MyDoc provided primary data from a community-based health screening initiative, which the University then analysed, and PwC developed into a report.
The outcomes from the study showed that patients with abnormal results for diabetes screening were six times more likely to seek a follow-up via a digital consult compared with an inpatient visit to a general practitioner. A digital consult refers to a text follow-up with a general practitioner on a the My-Doc telehealth platform once the patient received an abnormal blood test result.
The increased follow-up, and subsequent application of preventative healthcare measures translate to five times cost-savings from averted inpatient admissions due to complications from the disease.
When comparing the results for participants in cohort population of 100,000, the net mean cost-savings due to averted inpatient admissions amongst diabetic follow-up patients was S$2,912,150 versus S$560,097, assuming a 100 percent prevention of inpatient admissions due to detection from screening and follow-up. Even with half that prevention rate, the difference in savings was significant: S$147,403 compared with S$28,350.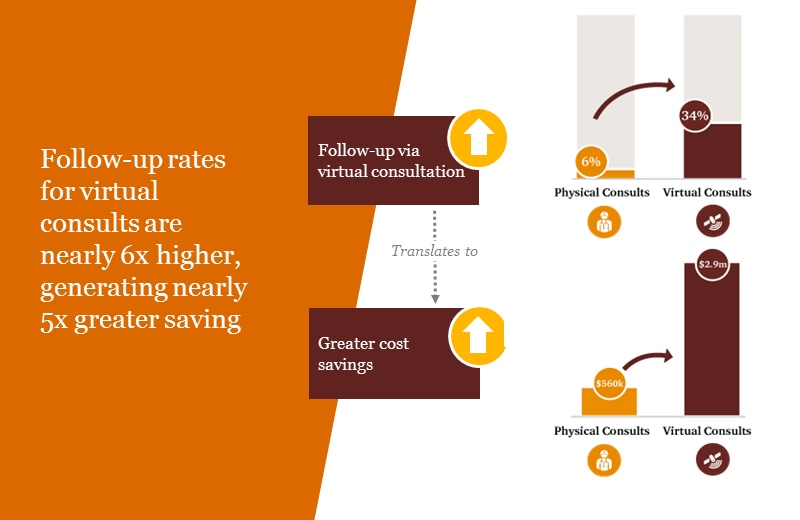 Definition of what constitutes value within the healthcare industry is challenging because different stakeholder groups don't share the same perspective on the costs and benefits of an intervention. While healthcare providers consider monetary benefits to be important, patients focus more on their experience and satisfaction with the care, along with their subsequent quality of life. When developing ROI measures, it's essential to incorporate non-financial parameters benefits along with monetary returns.
The positive outcomes for both patients and care providers in the teleconsultation study show how valuable the right ROI measurements, which incorporate values such as affordability, accessibility, and quality of care are for informed decision making on digital health investments to benefit the entire healthcare environment.
To read more about healthcare ROI and other health articles by MyDoc and our partners, visit here.